Hillcrest House B&B Accommodation
Bangor Erris, County Mayo, Ireland
(The Gateway to Belmullet)
Walking - Nephin Beg Range of Mountains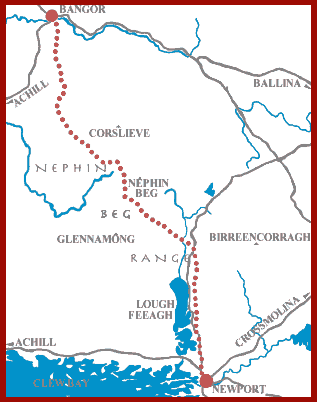 "Indeed the Nephin Beg Range of Mountains is, I think, the very loneliest place in this country, for the hills themselves are encircled by this vast area of trackless bog with the Atlantic winds singing along their slopes. I confess I find such a place not lonely or depressing but inspiring. You are thrown at the same time back upon yourself and forward against the mystery and majesty of nature…."
(R.L.Praegar, The Way That I Went, 1937)
The Bangor Trail is an ancient and much trodden path, which leads from Newport, across the Nephin Beg Mountains and blanket boglands, into Bangor Erris. In the summer months the trail is scattered with wildflowers and interesting carnivorous plants and heather.
Along the way you will see Furnace Lough to the West, and in the distance, Clew Bay of the many islands and Croagh Patrick, Ireland's Holy Mountain. You will pass Fauleens, (the little folds for cattle), and a narrow promontory fort regarded in local folklore as Diarmuid and Gráinne's bed.
Next the trail passes near Burrishoole Abbey and takes the forest road of Letterkeen across the Altaconey River.
(There is a road here leading to Lios na Gaoithe Ringfort should you wish to take a diversion.)
As you pass along the forestry edge, you will see the long ridge of Coirin Beg to the east. Local lore maintains that there are caves somewhere on the hill, filled with treasure.
A little further on you might see Loch Avoher, (Loch an Bhothair- the lake of the road) and then you will cross into Erris, reaching the highest point on the trail at 260 meters. Continue past Corslieve, the rounded mountain, and finally take a left and following the Tarsaghaun River to meet the N59, which leads the way into Bangor Erris.